Monday photo time - spinning, Zorro, and CIC
Non-knitting content! *gasp*
I've been spinning like mad. I got this fiber over the summer from a gal at etsy. I promptly learned how to spin, and then sort of neglected it - I couldn't afford to buy more fiber, so I didn't want to spin the limited amount I have.
Here it is soaking in the sink. I have about 33 yards here, single spun, and it's definitely the best I've ever spun. I was thinking of trying to ply it - but I have so little of it, I'm not sure what I'll do with it now.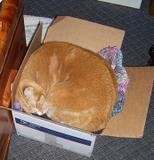 I've been a bad mommy & haven't posted any Zorro photos in a while. Yes, he's hanging out in my CIC box that is not quite ready to be mailed out. I keep taking stuff out & adding new stuff in it. Since it's all wool (well, some mohair) he really likes it. For once, he doesn't hop up on me with cold paws!
And some actual knitting content - in the round CIC sweater. It'll be about a size 2-4 I think. I'm planning on rechecking my gauge & rechecking my math, before I go much farther. I'm just doing random fair isle at the top that I'm making up as I go along. The gray color is auction wool; the sparkling white is recycled angora. I discovered I'm actually allergic to angora, so I'm using just small bits of it at a time, and I usually wear gloves while I'm knitting with it, to keep down the redness/itchiness, but it doesn't help my eyes from watering.

The pink at the top was recently donated wool, and the light purple that I just started knitting with, is yarn I picked up at a yard sale last summer, I believe - 20 ounces of 100% wool for $4, I think. I used up a ton of it in last year's CIC knitting, but I still have a few balls of it left. I earmarked one small ball of it to go in my patchwork sweater I'm slowly knitting (expected completition date: summer, 2012), and the rest of the purple yarn all went to CIC. I probably have more of it floating around, but I doubt it. I spent a bit of time going through the stash to find what wool I have left, and I'm so grateful I got wool donations as I am definitely getting very low.