yard saling
Finally, after a lot of rain, we finally got to go yard saling - for about 7 hours or so.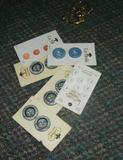 We went all over the place, and I can't believe how much stuff we came home with. I did stick to the Summer of Stash - though it was hard, I only used my exception - buying wool yarn for CIC.

some of the buttons I got with a ton of other sewing stuff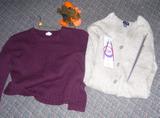 the wool sweaters (to frog for CIC), the tapestry yarn (100% wool for CIC), one of the circs & 2 pairs of straight needles


misc sewing stuff-zippers, ribbon, pincushion, etc. some yarn bobbins, and things I don't even know


the mags & the free yarn (see the sign?)


I also got some brown fabric, 2 different types. I thought I photographed it, but I guess I didn't.


All totalled, I spent less than $5 for everything!
zippers, pin cushion, just a close up... I love the pin cushion. Not that I need another one, but all the sewing stuff (minus the fabric) was all in the same lot.
Jon got a vintage lego set (still in the box), 2 brand new lego sets, a bunch of cars & loose legos, & a Garfield mug, for I think $3.25 for everything. Oh, wait, it was around $4.